A Chinch Bug Resistant* St. Augustine With Reduced Mowing Requirements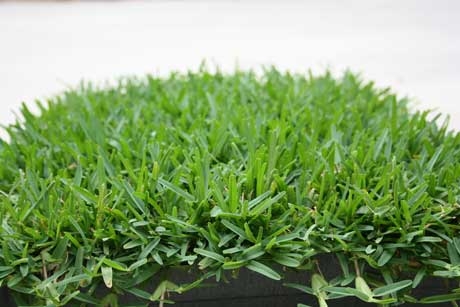 A reduced input St. Augustine, Captiva's pest resistance minimizes the need for chemical inputs and its low growth habit greatly reduces mowing frequency.
| | |
| --- | --- |
| | Chinch bug resistant* |
| | |
| | Lush, dark green color |
| | |
| | Also resists the Planthopper insect |
| | |
| | Slow leaf growth habit means less mowing |
| | |
| | Dense canopy and deep root system |
*Resistant to all chinch bug varieties found in the state of Florida
Uses: Home Lawns – Commercial Landscapes – Parks & Rec
The gorgeous visuals of Captiva Island are what come to mind when some people hear the words Captiva St. Augustine Grass. Now you can enjoy this great product of the Sunshine State. Captiva St. Augustine's dark, alpine green color and lush growth habit can help your home look like an island resort hotel. And if you weren't tantalized enough, Captiva St. Augustine grass is resistant to two important pests, the Southern Chinch bug and the Planthopper.
As with all of our grasses, for Captiva St. Augustine Sod and Captiva St. Augustine Turf, we offer support with helpful information and advice. For example, we hope you will download a PDF copy of our Frequently Asked Questions (FAQ) on this sod variety. Captiva St. Augustine Sod Characteristics are many, but the most important characteristic is evident firsthand when you view our Captiva St. Augustine Sod Photos. This grass remains lush during most of the year with very little maintenance. One reason landscape consumers choose our Captiva St. Augustine is for its slow leaf blade growth.
You can save the cost of gas and lawn mower maintenance if you choose this deep green lawn covering. Captiva St. Augustine will grow strong with its own dense canopy and roots extended deep into the soil. Your family and your visitors can lay down on the grass and roll around to experience the unique texture and soft cushion this grass product provides. At the same time, you must pull hard to remove any of these tenuous grass roots from the soil. The best part about this grass is that it serves its owners well in many climates without the need for amounts of chemicals that harm the natural flora around your building.
For personalized assistance on Captiva St. Augustine Sod Care and Captiva St. Augustine Grass Maintenance, please note our contact information and seek out professional communication with one of our Sod Solutions reps. Ask us Where will Captiva St. Augustine Sod Grow. Find out why this multi-purpose grass is found in many American states with diverse soil types, including sandy, loamy, clay, and mucky soils. St Augustine Grass is not sold as seed.